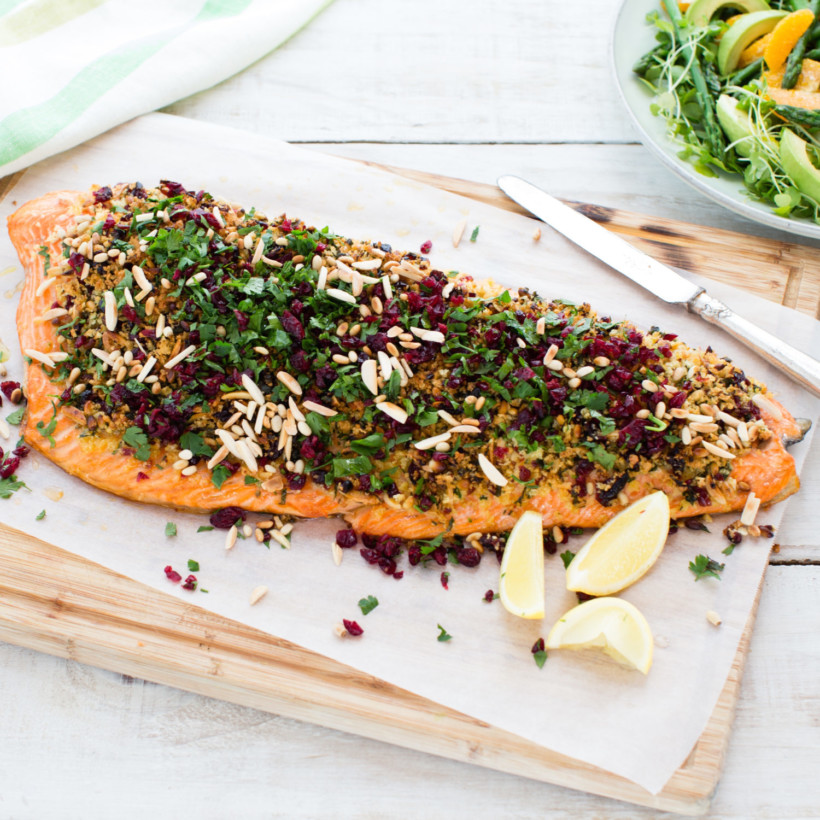 Salmon with cranberry, parsley and nut crust
With its festive colours, this beautiful salmon is perfect for the Christmas table.
Ingredients
1

cup

panko breadcrumbs


½

cup

dried cranberries

chopped + 2-3 tablespoons extra for garnish

¼

cup

sliced almonds

¼

cup

pine nuts

⅓

cup

flat-leaf parsley

chopped + extra for garnish

2-3

tablespoons

thyme leaves

finely chopped

lemon Finely grated zest of 1

orange Finely grated zest of 1

⅓

cup

melted butter

+ 2-3 tablespoons extra for drizzling

1

fresh salmon, whole side

about 1.5kg

1

lemon

cut into wedges, to serve
Instructions
Preheat oven to 200degC. Line a large baking or oven tray with baking paper.

In a medium bowl, mix panko breadcrumbs, cranberries, almonds, pine nuts, parsley, thyme and lemon and orange zest together. Stir in melted butter and season with salt and pepper.

Pat salmon dry with paper towels and remove any remaining 
pin bones. Place salmon on prepared tray, skin-side-down. Season well with salt and sprinkle crust mixture evenly on top, pressing down gently to adhere. Drizzle over a little more melted butter. Place on a shelf in the middle of the oven, and bake for about 20-25 minutes or until salmon is just cooked through (it is best cooked medium) and crust is golden.

Garnish with more chopped cranberries and parsley for colour. Serve with lemon wedges to squeeze over, baby potatoes and salad (I like baby Jersey Benne's, boiled and tossed with butter, garlic, parsley and lemon, and a salad of watercress, orange segments, avocado and blanched asparagus).
Notes
This is a great one for Christmas lunch or dinner as it takes all of about 15 minutes to prepare, and only 20-25 minutes to cook in the oven. Alongside the traditional turkey or ham, I do love having salmon as well, especially for a Summer Christmas. A whole side of salmon is enough to feed 10-12, so if you have a smaller group, just halve the recipe for the crust and use it on half of a side (and reduce cooking time to 15-20 minutes). You can even do this with individual portions if you prefer. If there aren't any whole salmon fillets on display at the fish counter, ask your fishmonger to get one (or half of one) from out the back – they will always have some fresh. This is perfect served with some new potatoes and a fresh, crisp salad.
Use gluten-free breadcrumbs to make it gluten free.