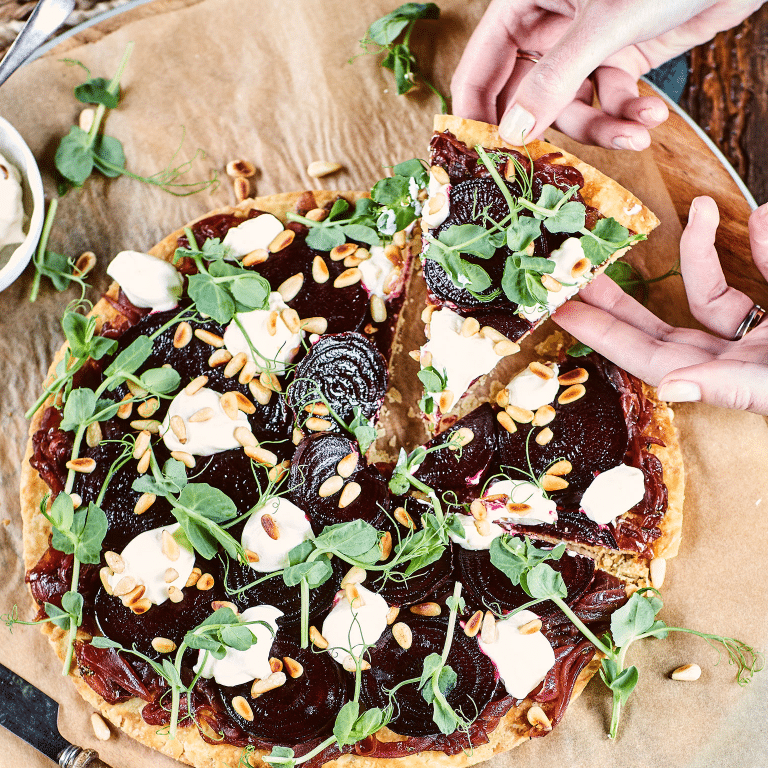 Maple roast beetroot, caramelised onion and cashew cream vegan tart
Vegans and vegetarians need not miss out on a special meal at occasions like Christmas. A vegan tart like this is the perfect centerpiece that everyone will enjoy, whether they have dietary requirements or not!
Ingredients
Cashew cream
1½

cups

raw cashew nuts

soaked in cold water for a few hours or overnight to soften

1

tablespoon

extra virgin olive oil

2-3

tablespoons

water

½

teaspoon

salt

lemon juice of ½

2

teaspoons

yeast flakes or nutritional yeast

optional, but gives a more savoury, 'cheesy' flavour
Vegan olive oil pastry
200

g

plain flour

½

teaspoon

salt

6

tablespoons

olive oil

¼

cup

cold water
Maple roast beetroots
3

beetroots

medium sized, scrubbed

1

tablespoon

olive oil

1

tablespoon

maple syrup

2

teaspoons

balsamic vinegar
Carmelised onions
2

tablespoons

olive oil

3

red onions

thinly sliced

1

tablespoon

olive oil

2

tablespoons

brown sugar

4

tablespoons

balsamic vinegar

¼

cup

water

1

tablespoon

thyme leaves

chopped
To serve
pea tendrils

or a handful of rocket

2-3

tablespoons

pine nuts

lightly toasted
Instructions
To make the cashew cream, drain cashews and place in a food processor with all other ingredients. Blitz until smooth and creamy, scraping down the sides of the bowl as necessary. It will take at least 2 minutes for the cashews to break down completely. Add a little more water as needed to get a smooth, creamy consistency. Transfer to a bowl and set aside. If making ahead, store in the fridge; it will keep for 2-3 days.

For the pastry, mix flour and salt together in a mixing bowl. Add olive oil and stir with a fork until it resembles breadcrumbs. Stir in cold water (you may need a tiny bit more; if so, only add 1-2 tsp at a time) until mixture forms a soft dough. Bring dough together with your hands, wrap in plastic wrap and rest in the fridge for 30 minutes. Meanwhile, cook the beetroot and caramelised onions.

Preheat oven to 190°C. Slice beetroot into 5mm-thick rounds. Place on a baking tray lined with baking paper and drizzle with the olive oil, maple syrup and balsamic vinegar, then season with salt and pepper. Roast for 20-25 minutes until tender. Leave oven on.

For the onions, heat olive oil in a large frying pan on medium heat. Add onions and cook until very soft and starting to caramelise (about 10 minutes). Add brown sugar, balsamic vinegar and water, reduce heat and cook until you have a jam-like consistency (about 15 minutes). Stir in thyme and season to taste with salt and pepper. Keep warm.

On a piece of baking paper roll dough out into a large circle about 3-4mm thick. Trim the edges, if you like, for a more uniform look. Prick in a few places with a fork and bake (at 190°C) on a large baking sheet for 16-20 minutes until light golden brown. Remove from oven and top with caramelised onions, spreading them evenly. Arrange roasted beetroot on top. Top with pea tendrils, pine nuts and dollops of cashew cream. Serve rest of cashew cream on the side.
Gluten-free olive-oil pastry
To make gluten-free olive-oil pastry, replace plain flour with plain gluten-free flour mixed with 1½ tsp guar gum. Guar gum is a natural food thickener used to bind and emulsify gluten-free ingredients (so they don't crumble and fall apart!). Please note that this pastry may not brown as much in the oven.
Notes
This delicious vegan tart made with olive-oil pastry can be made gluten-free if needed. You can make all the components (pastry, caramelised onions, roast beetroots and cashew cream) in advance. Simply assemble and warm in the oven at 150°C for 8-10 minutes before garnishing and serving.
It can also be made into a vegetarian (not vegan) tart by using store-bought shortcrust pastry (made with butter) and dolloping sour cream or crème fraîche on top instead of the cashew cream. Another great special vegetarian Christmas centerpiece is this Portobello mushroom, caramelised onion and brie wellington.
For a vegan dessert to serve after this tart, I highly recommend my Magic mini vegan pavlovas!
This recipe is from NADIA magazine.